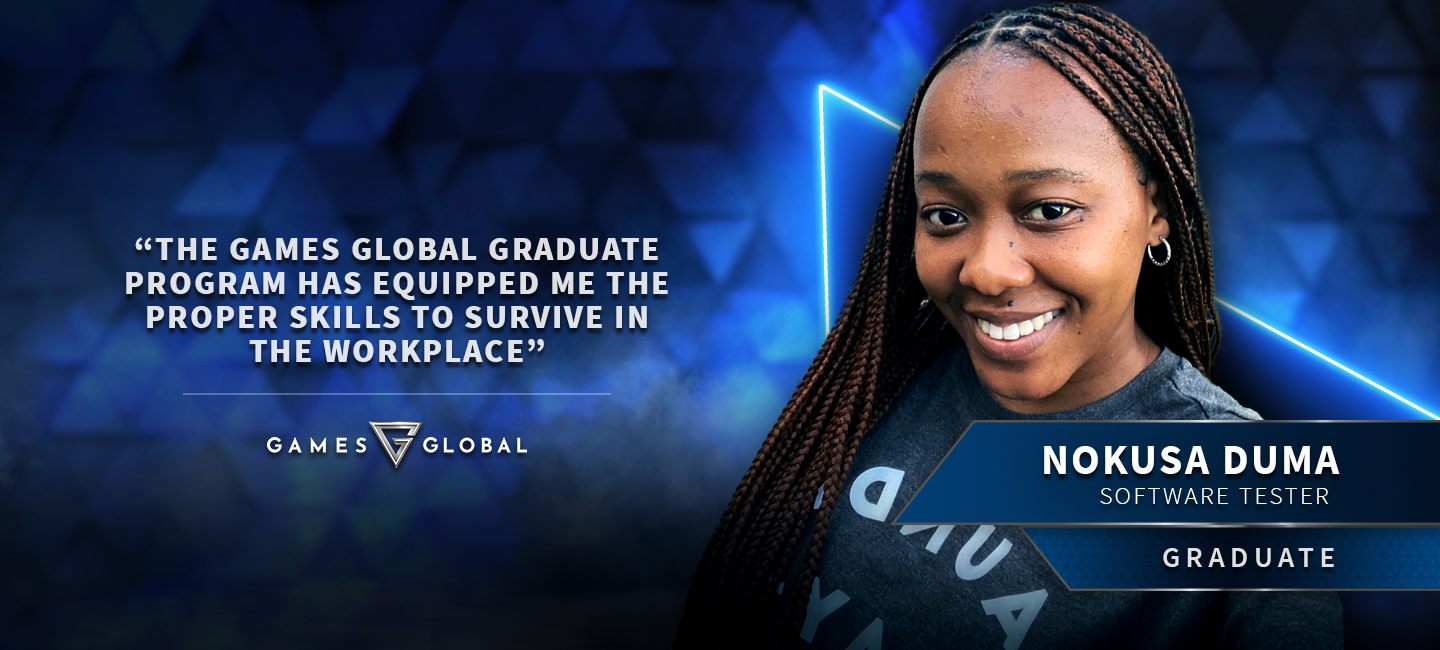 Another Games Global Graduate Success Story
2023-11-20
Empowering graduates to kickstart their careers
The Games Global Graduate Programme provides 12 months of valuable on-the-job training to graduates who are eager to kickstart their careers in Cape Town or Durban while gaining practical knowledge, skills, and experience in a fast-paced and dynamic work environment.
This future-focused scheme focuses on not only offering the first step in an exciting new industry, but empowering graduates with the tools and experience needed throughout their careers.
Nokusa Duma initially joined Games Global through the Graduate Programme, and has recently been appointed as a Software Tester in the Durban office with the Enhance team. We chatted with Nokusa to find out what her journey has been like with the Games Global Graduate Programme, and how the experience has impacted her career.
Q. What did you study and what did you enjoy?
A. I studied a Diploma: ICT in Applications Development and Advanced Diploma in ICT from the Durban University of Technology. To be honest, I enjoyed every single module from my Advanced Diploma year, but Mathematics and Data Analytics stood out the most for me. Data Analytics was a new topic for me, and it was not easy, but I enjoyed every single aspect of it. equips graduates with the skills to kickstart their careers, but to truly thrive in the workplace.
Q. What value did the graduate program add to your career/personal journey?
A. The graduate program has allowed me to be a little bit more confident in myself as it equipped me the proper skills to survive in the workplace. I had zero work experience, let alone testing experience. I wouldn't have been able to transition into a junior role if it wasn't for the graduate program. I learned professional and technical skills that were not taught/offered during university. Personally, the graduate program made me realize that nothing happens overnight and that you really need give yourself time, make mistakes and learn from them. In all aspects of life, not just in your career.
What are you looking forward to in your new role?
A. I'm looking forward to adding value to my team and to the department. This industry has shown me that you will always be learning new skills because things change and become more advanced, so I'm keen to learn more and to see how I will integrate these skills into my job. There is a lot more responsibility that comes with my new role but I'm excited to get into that and see my career blossom.
Keep an eye on our social channels, including LinkedIn, to track the growth and journey of the scheme's 2024 intake. Let's do this!